Your Neighborhood Restaurant with Home Style Cooking
Looking for a neighborhood restaurant that offers family dining with real home cooking and a variety of cuisines? Then look no further than the Ashton Family Restaurant at the corner of Cockrell Road and Ashton Avenue in Manassas! Here you can expect exceptional dishes served in a comfortable atmosphere while dining at a pace that suits your mood. The owners and staff pride themselves on providing true dining value which is felt the minute you walk in the door and are warmly greeted by Edin Esquivel, one of the owners.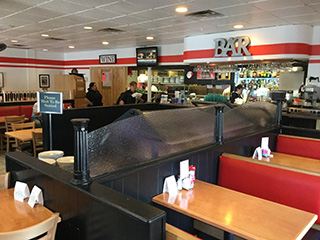 Satisfy Every Palate
Greek, Italian, American and Tex-Mex. Everyone can find something that will please their palate. For breakfast, choose from the extensive selection of eggs, omelets, breakfast sandwiches, waffles, pancakes and French toast. Lunch offerings include delicious soups, salads and sandwiches along with a wide selection of luncheon entrees. In the evening, the dinner menu features seafood, pasta, and other delicious entrees complimented by a healthy selection of beer, wine and cocktails.
The menu offers and abundance of options including:
Salad Bar
Gyros and Hamburgers
Beef Fajitas, Quesadillas, and Carne Asada
Lasagna and Spaghetti
New York Steaks
Moussaka
Homemade Pies, Cakes, & Cheesecakes – Pineapple, Oreo, & Peach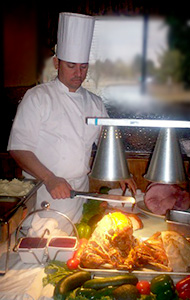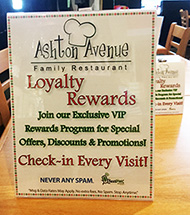 Dining Loyalty Rewards
Ask your server about our loyalty rewards program.
Join and receive special offers, discounts, and participate in promotions!
Be sure to check in with every visit!
V.P. Mike Pence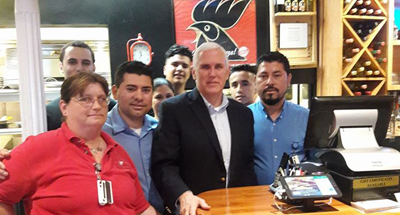 It was an absolute honor to have the Vice President of the United States Mike Pence join us here at Ashton Family Restaurant for breakfast!
Dining Options
Dine-In or Carry-Out
Large parties up to 25 are welcome
Reservations are welcome
Off-site Catering Available – call for details
ABC onsite (Beer, Wine, Liquor)